Random Walk in a Gallery of Religious Art, Step 31: Exodus 2:1-10, The Infant Moses Saved from the Nile, by Charles de la Fosse (8/28/15)

Today's Study Tip: As we've seen many of our previous painters do, Charles de la Fosse has dressed his ancient characters in modern clothing (modern to him, anyway) to let us better imagine ourselves in their situation. Pharaoh's daughter wears a little crown, suitable for a princess, and a lovely dress. Her serving girls wear simpler clothing. The baby Moses wears nothing at all except for a little fig leaf or something. An obelisk in the background is the only thing that tells us we are in Egpyt. Everyone is very excited about the beautiful baby, and Pharaoh's daughter decides to adopt him in about the same way you or I would adopt a stray puppy or kitten. After he was weaned and housebroken, Moses joined his foster mother in the palace, where he received the good education and management skills that he would need later to lead God's people out of Egypt.

Previous Step. Next Step.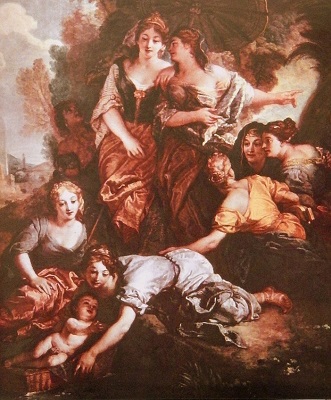 "The Infant Moses Saved from the Nile" by de la Fosse,
from the Gamble family Bible,
now in the private collection of Regina Hunter.